Our pal Michael Wermuth has been breaking down 60 Years of Henson / Muppet History, bit by bit.  Be sure to check out Part 1, Part 2, Part 3 and Part 4!
We start now in 2004, when The Jim Henson Company sold off two of its biggest franchises, the Muppets (the franchise the company was most associated with) and Bear in the Big Blue House, happening only a few years after selling the Sesame Street Muppets to Sesame Workshop. While history on The Jim Henson Company and the Muppets   overlapped in previous articles, for this one I'll separate the article in a way, showing what The Jim Henson Company has been up to since 2004 and then what the Muppets, under ownership of The Walt Disney Company, have been doing.
2004-Present: The Henson Side

Now that The Jim Henson Company no longer owns three of its biggest franchises, the company started to give more attention to some of its past properties that hadn't been given much attention in years, most notably Fraggle Rock. In just five years, the entire series would be released on DVD (and would be rereleased a number of time) and for digital streaming, as well as broadcast on The Hub. The puppets had been in too poor a condition to be used in anything new for years (the company wouldn't even rebuild them to appear at Muppetfest), but slowly over the next few years all of the main Fraggles would be rebuilt, to be used in a number of things, most notably a music video for Ben Folds Five entitled "Do It Anyway", and since 2005 there have been plans for a Fraggle Rock movie, which has been announced on-again and off-again, going through a number of writers and distributors.
During the 1990s, the video rights to the majority of the Henson Company library were held by a single company (Disney from 1993-1997, Sony from 1998-2004), but now video deals would be limited to the companies family programs, with rights being held by Hit!, Lionsgate, and Vinvendi, while Sony continues to hold the video rights to The Dark Crystal and The Story Teller (in addition to all Henson productions the company always had the rights to).
In 2009, The Jim Henson Company started a YouTube channel, showing clips from its large library of retained properties, and many projects have been released digitally. In 2010, Archia Comics got the rights to not only publish comic books based on Henson properties, but also published graphic novels based on Tales of Sand and The Musical Monsters of Turkey Hollow, previously-unproduced scripts by Jim Henson and Jerry Juhl.
The company has also used social media to interact with fans and celebrate the past works of Jim Henson. In 2008, the company started the Henson.com Podcast, in 2010 Henson.com started a "Jim's Red Book" section, with info taken from Jim Henson's personal journal, in which he wrote one-sentence info on what he did each day from 1965-1988.
Whenever necessary, Henson has worked with Sesame Workshop and Disney to allow their properties to be included in books, exhibits, and such focusing on the history and works of Jim Henson, including the books It's Not Easy Being Green and Other Things to Consider, Imagination Illustration: The Jim Henson Journal, and Jim Henson: The Biography. Even more notably, in 2012, the three companies worked together to allow a special Carnegie Hall concert, Jim Henson's Musical World, which not only featured performances of songs from Henson's many works, but also appearances by characters from all three companies.
Unfortunately, the company started having trouble getting new productions done, often announcing things that don't get made. The company has even had trouble getting out new productions based on established properties, such as a Dark Crystal prequel and a Fraggle Rock movie, which have changed distributors and writers over the years, and every once in awhile, news will be posted stating that they are still in development. An original story, The Happytime Murders, has also been announced on-and-off as long as the others.
In 2005, the company formed Henson Alternative, a branding for more adult puppet comedies. While a number of pilots have been taped, including Late Night Buffet and Tinseltown, the shows haven't made it past the pilots. Perhaps the most successful of Henson Alternative is its puppet improv shows, which have changed titles over the years, including Puppet Improv, Puppet Up, and Stuffed and Unstrung. One show was recorded and broadcast on TBS.
But in recent years the company has been most successful with computer animation, doing shows with both the usual CGI style and the Henson Digital Puppetry System, in which characters are controlled in real-time like puppets. CGI shows have included Sid the Science Kid, Dinosaur Train, and Doozers, as well as the Unstable Fables DVD series.
But the company has started to get a little more out recently. In 2013, the company made the successful reality show Jim Henson's Creature Shop Challenge for SyFy, but despite good ratings, the show has yet to see a second season, due to SyFy wanting to cut the budget (but Henson is still trying to get a second season somewhere). The company recently produced and supplied animatronics and effects for the Disney-released Alexander and the Terrible, Horrible, No-Good, Very Bad Day. And the company is currently producing the long-awaited Magical Monsters of Turkey Hollow as a television special.
2004-Present: The Muppet Side

Disney bought the rights to both the Muppets and Bear in the Big Blue House franchises, including respective characters, TV and film libraries, and trademarks (including the Muppet name) in 2004, forming its own Muppet division, initially called The Muppet Holding Company and, later, Muppets Studio (sometimes calling it the more grammatically-correct Muppet Studios). Although Bear in the Big Blue House had recently ended, Bear continued to be used for a few years, getting his own interstitial series called Breakfast with Bear.
The Jim Henson Company signed a five-year production deal with Disney and continued to build the characters during that time, though another puppet company, Puppet Heap, started to take over in 2006. During this period (which had started in 2002, with It's a Very Merry Muppet Christmas Movie and was planned to occur in the proposed Muppet show for Fox), the Muppets had a bit of edgier humor, the kind associated more with The Simpsons and Family Guy, but after a few years would more-or-less go back to its family-friendly humor.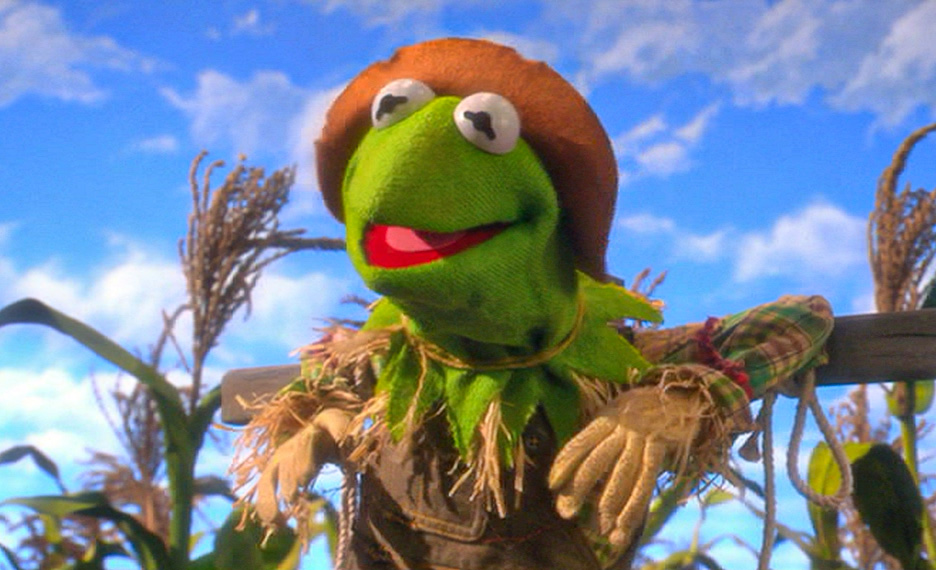 The first big Muppet productions to come from Disney (after Disney's ownership) include the made-for-TV movie The Muppets' Wizard of Oz and the web series Statler and Waldorf: From the Balcony. However, in the next few years, many Muppet projects were announced but not made, among them the reality show parody America's Next Muppet, Christmas and Halloween specials, and a celebrity roast for Kermit the Frog's 50th birthday. Also planned for Kermit's birthday was a 50th anniversary tour in which Kermit would visit 50 places that he wanted to visit, only for the tour to be dropped after only a few stops.
In 2005, Disney announced that the Muppets would all now have alternate performers, in addition to their main performers, for smaller productions so that more productions could be made. This decision did not please fans (not to mention the performers), and Disney soon ended this practice, once again tying the characters down to one performer. However, in 2009, Kermit made a handful of appearances where he was performed by Artie Esposito.  Fans were not happy, mainly because they didn't know what happened to Steve Whitmire (and those who knew were not allowed to reveal why it happened). It also doesn't help that the fans weren't able to anticipate this. Soon, Whitmire would be back to performing Kermit again.
In 2004, Jerry Nelson announced his semi-retirement, for the most part performing only on Sesame Street until his death in 2012. Following his semi-retirement, his Muppet characters – as well as many originated by Richard Hunt – would go through a number of different performers, but in 2008, Jerry Nelson had trained Matt Vogel, who has been Caroll Spinney's understudy as Big Bird since 1996, to be the main performer for the majority of his characters, in addition to training David Rudman to take over as most of Richard Hunt's characters (Rudman had already taken over as a handful of Hunt's Sesame Street characters).
Disney started to relaunch the Muppets around 2008, with web videos on the newly-relaunched Muppets.com and on YouTube. Many of the YouTube videos were Muppet renditions of existing songs. At first, the songs were all public domain tunes, such as "Stars and Stripes Forever" and Beaker's Webby-winning performance of "Ode to Joy", but in 2009, the Muppets started to do viral videos of such pop songs as "Bohemian Rhapsody",
which got a record-breaking number of views in its first day online. 2010 brought fans the web series The Muppets Kitchen with Cat Cora, in which real-life chef Cat Cora was joined by a new Muppet chef, Angelo, and often featured a short somewhat-unrelated skit with other characters.  From 2009-2010, Boom Studios published two series of Muppet comic books, The Muppet Show Comic Book, written (and usually illustrated) by Roger Langridge, which took the format of the original Muppet Show, and Muppet Classics, which had different artists and writers and put the Muppets in new versions of classic stories, such as Muppet Robin Hood, Muppet Peter Pan, and Muppet Snow White. Both series were well-received by fans. Some fans even favored the Muppet Classics series over films like The Muppet Christmas Carol and Muppet Treasure Island since all of the characters are portrayed by established Muppets, since they couldn't cast live actors as the leads.
In 2008, Jason Segel and Nick Stoller pitched a new Muppet movie script to Disney, which was accepted on the spot. The script, originally titled The Greatest Muppet Movie Ever, would be released in 2011 under the title The Muppets, and would be a box office hit (being the highest-grossing Muppet film at the box office). The film introduced a new Muppet character, Walter, performed by Peter Linz. Shortly after the success of the movie came another Muppet movie, Muppets Most Wanted, which was well-received by hardcore Muppet fans but criticized by casual fans for the reasons the hardcore fans liked it (many complained that Jason Segel wasn't in this one, while others complained that the Muppets got more focus than the humans), and didn't do too well at the box office.
Although Muppets Most Wanted underperformed, Disney has not yet given up on the Muppets. Summer 2014 brought fans the six-episode web series Disney Drive-On with the Muppets, Disney Junior brought kids the interstitial series Muppet Moments, the Muppets have appeared in many videos produced at YouTube Space L.A., which have included music videos (such as "Pure Imagination", "Jungle Boogie", and "Flowers on the Walls"),
the weekly "Fozzie's Bear-ly Funny Fridays", dramatic recitations of Disney theme park songs, and an upcoming series of new Pigs in Space skits. Most importantly of all, the Muppets are getting a new series on ABC, called The Muppets, which will be shot in a faux documentary style as the Muppets put on a new talk show, "Late Night with Miss Piggy", and will show the Muppets personal lives.  
One major plot point is that Kermit and Miss Piggy have broken up, with Kermit now dating a pig named Denise, an executive at ABC. A month before the shows premiere, the break-up had been announced on social media, treating the Muppets like real beings as opposed to characters on a show.
Since around 2011, Disney had more-or-less stopped allowing behind-the-scenes footage and images of the Muppets to the public, treating them real and not showing the performers.
This was most telling when behind-the-scenes material avoided showing the performers as their characters, instead just showing the Muppets. But in recent months, Disney seems to have changed its minds, allowing the performers to be seen with their characters at such conventions as San Diego Comic Con and Dragonfest, promoting the new series.
And with all that, this article series comes to an end. Hopefully, The Muppets will be just as successful as, if not more than, The Muppet Show was, bringing us many seasons of the show. Hopefully the Muppets will return to the movie theaters some day. And hopefully The Jim Henson Company will be able to produce more works (especially that Fraggle Rock movie). It's been 60 great years, hopefully the next 60 will be just as good.