Kieran Moore – 
For those of you that don't know, my next 10 charts (minus a few specials) will be based around specific characters, and this week I'm absotively, posilutely over the moon to be looking at the songs of Dr.Teeth. I'm especially pleased because apart from being the perfect character to start a series of musical articles with, he's also a favorite of mine. I think he's quite possibly one of the most under-rated Muppets there is. According to Muppet Wiki, he's appeared in over 45 episodes of The Muppet Show and all of the Muppet Movies and yet Dr. Teeth is arguably still only Jim Henson's fifth best-known Muppet Show character! Obviously that's testament to how great Jim is as a performer, but also a little sad as I really think Dr. Teeth is one of the Muppets' MVPs. He's exactly the sort of "hip" character that the gang needs to help skewer their sweeter moments yet he still has a big heart. I would say he's second only to Cantus Fraggle in terms of philosophy and matters of the soul. He's also a born performer and music is in his blood – two of the best qualities that a Muppet can possess.
Please Note: As this chart is specifically for the character of Dr. Teeth, I have omitted from consideration any Electric Mayhem songs that feature the rest of the band as anything more than backing vocalists. At some point I'm sure there'll be an Electric Mayhem chart, but today is all about the good Dr's "golden tones"!
10 – Jungle Boogie – Dr. Teeth & the Electric Mayhem ft. Sam the Eagle – Muppet Viral Video
I guess this could be seen as a strange choice for this chart as it does feel very collaborative for a list about one specific character, but Dr. Teeth definitely has the lead on this one as far as I'm concerned. Bill Barretta really has grown into the character. I'm so pleased that this recast means that we will see more of Dr. Teeth in future. Bill is doing a wonderful job here making what are essentially adlibs the meat of the piece. He's got Dr. Teeth's melodic gruffness just right. This is brilliantly shot and as funny as Sam is, the slick music video style kind of makes me wish he wasn't there. This would be perfect as simply an Electric Mayhem release – possibly with a view to doing more in the future. For years fans have wanted an album from the group and it seems that with the new show this might be the perfect time. We could see clips from behind the scenes of the band on a promotional tour. Talk about Meta!
9 – Tenderly – Dr. Teeth & the Electric Mayhem – The Muppet Show
As one of the few non-movie Electric Mayhem songs to get an audio release, this song is probably one of their best known efforts. While I appreciate the humor of singing such a soft and (well) tender song in the Electric Mayhem hard rock style I must admit that this isn't really one of my favorites from the band. It's a rip-roaring piece, but I'm afraid I do find it a bit too shouty. I get that that's the joke, but it doesn't make it any easier on the ears! We're here to discuss Dr. Teeth though and he's the reason this song made the list. Jim's vocal performance here is big and grand. I sense the word gruff is going to feature heavily in this chart, but I have to mention it here as it's Dr. Teeth's gruffness set against the backdrop of such gentle lyrics that makes this work. Whilst the other characters might be shouting, our lead definitely isn't.
8 – Night Life – Dr. Teeth and the Electric Mayhem – The Great Muppet Caper
If I'm completely honest it wasn't until this song was covered for "The Green Album" that it ever really registered that this was considered to be a song and not part of the movie score. As much as I enjoy it, it always feels a little in the background for me. Especially when compared to "Can You Picture That?" from "The Muppet Movie" which is much more front and center. Either way, this a fun, rocky number that takes a joke similar to the song above and moves it in a different direction. I love that this is what the band consider to be the perfect music for a first date. Maybe it is – Kermit seems to be enjoying himself! This was the Muppet movie I watched most as a kid and I always wanted to ride on the Happiness Hotel bus with these guys. That would have made me very happy. I always wondered what Scooter had done to be forced to ride outside though?!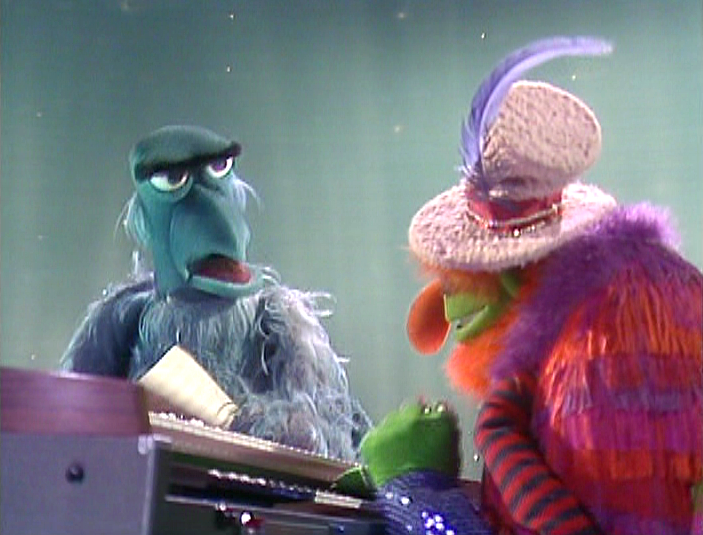 7 – Mack the Knife – Dr. Teeth with Sam the Eagle – The Muppet Show
This is the first song on the chart not to feature Dr. Teeth's Electric Mayhem colleagues, but is Sam's second appearance on the list! Who'd have thought he'd feature so heavily on a Dr. Teeth chart? What this pairing does show though is that you can take any two Jim Henson and Frank Oz characters and put them together and they'll work brilliantly. They have such on-screen (and under-camera) chemistry that sparks seem to fly between them no matter what. As has been the way since "The Muppet Show: Sex and Violence" Sam is the perfect foil for the more streetwise Muppet characters. I love that the creative team's subversive side gets to come out to play and mock those that seek to sensor. Sensorship on TV was a hot topic in the U.K. in the 1970s and  both the Louis Armstrong and Bobby Darin versions of this song have been banned here in the past so we can officially consider this satire!
6 – 'Zat You, Santa Claus? – Dr. Teeth & the Electric Mayhem – A Green and Red Christmas
This is another Dr. Teeth song that was more famously recorded by Louis Armstrong. I guess they're a pretty good match vocally. As I'm sure most Muppet aficionados know Dr. Teeth is actually partially based on Dr. John (with a dash of Sir Elton thrown in for good measure) and the influences are easy to see. From the slightly humped back and flamboyant headwear to the shades and face fuzz – it's all there. I try not to include Christmas songs out of season unless I really think they're something special and that's exactly what this song is. I've written about my first listen to the album this is from before (I bought it on vacation at Walt Disney World), but my abiding memory of it consists of me listening to the new recasts and trying to work out what I thought. Some needed more work than others, but I remember being very pleased that at least the powers that be were taking the time to give these recently silent characters a voice. Bill's Dr. Teeth was a highlight then and it still is now. I can instantly tell the difference between old and new versions of some characters, but I don't know if I'd say the same about Dr. Teeth. Finally, check out the video linked for this song – you won't be disappointed!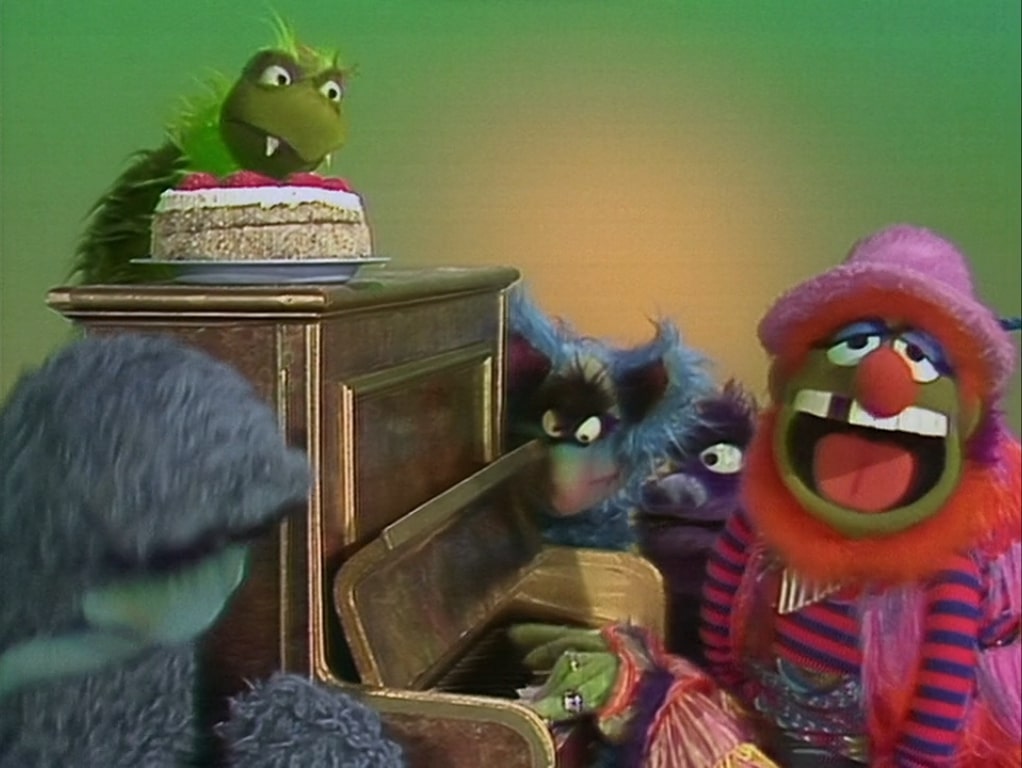 5 – Cheesecake – Dr. Teeth, Cheesecake & Chorus – The Muppet Show
I actually had no idea when I put this chart together that this song was written by Louis Armstrong so it's just a coincidence that we're now on our third Satchmo song in a row. Despite being a high tenor I actually do quite a convincing Louis Armstrong impression! If only I had some way of adding it here… This is such a fun song. Is anyone else getting a Rowlf vibe from this? Other than the fact that the writers seem to like matching Louis and Dr. Teeth, this seems like the type of song Rowlf would usually perform. It's the kind of silly, comedy-esque song that suits his sense of humor and it's staging of an upright piano with the chorus standing around it is textbook Rowlf. That said, it's fun to see Dr. Teeth come out of his comfort zone, step away from his electric keyboard and do something different. I've always felt that although he is deadly serious about music he treats the subject with far less reverence than his band member Floyd. To Dr. Teeth music is like food – he needs it to survive, but instead of always wanting filet mignon he knows that sometimes you just need something gooey and comforting. Kind of like cheesecake…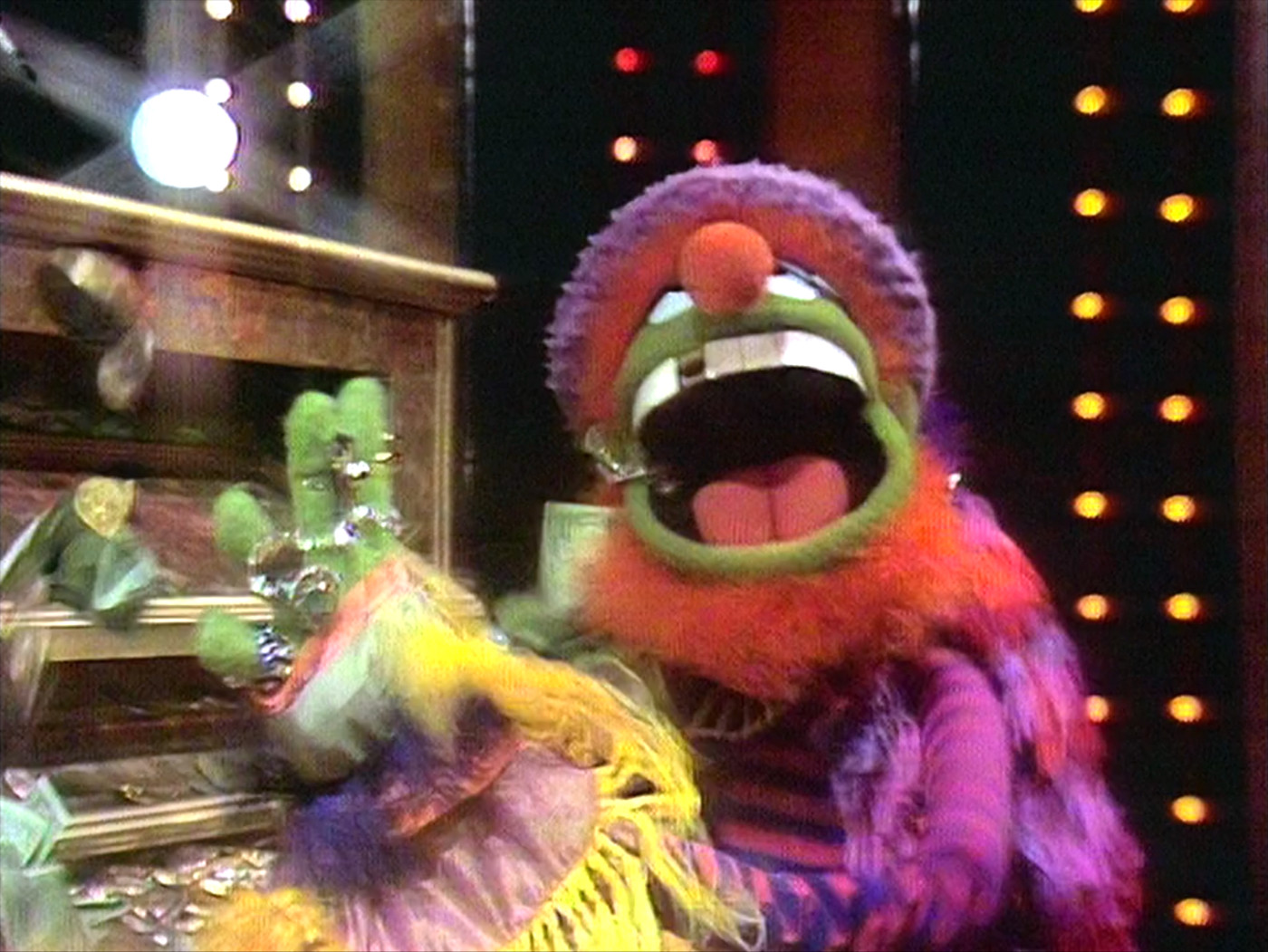 4 – Money – Dr. Teeth – The Muppet Show
We've finally moved away from Louis Armstrong for this superb song. Written by Ruby Raskin and Stan Freberg this song is perfect for a wordsmith like Dr. Teeth. With quick-fire lyrics that read like a thesaurus it's hard to imagine another Muppet performing it, yet perform it they did. This was a song that Jim Henson liked to use a lot. Not only did it appear on Sam and Friends it was performed on various variety shows by characters such as Rowlf or Tommy throughout the 1960s. Stan Freberg was listed by Jim as a huge influence and a trawl of Stan's material on YouTube will certainly show that to be the case. Stan Freberg is hilarious and if you find the comedy of the Muppets funny I'm willing to bet my fee for writing this article that you'll enjoy Stan's work too.
3 – That Old Black Magic – Dr. Teeth & the Electric Mayhem and Jaye P. Morgan – The Muppet Show
This is another song that has ties to the Henson Company's past. In fact, it wasn't something that had occurred to me before, but Dr. Teeth is probably the biggest link between The Muppet Show and Jim's previous work after Kermit and Rowlf. When you look at Jim's characters from every era all together you can see how they start to fit together. As I said earlier, there's a dash of Cantus in Dr. Teeth, but there's also a little Convincing John too which is a pretty interesting mix when you think about it. It's pretty obvious looking at the songs on this chart that musically at least Dr. Teeth had an old school vibe that allowed Jim to present past material in a new way, utilizing the character's modern attitude and attire. This is the only guest star song on this list and Jaye P. Morgan more than earns her place. She has a big, powerhouse voice that really suits this song. The key for this number brings out Dr. Teeth's growlier tones and the two form a nice yin and yang effect.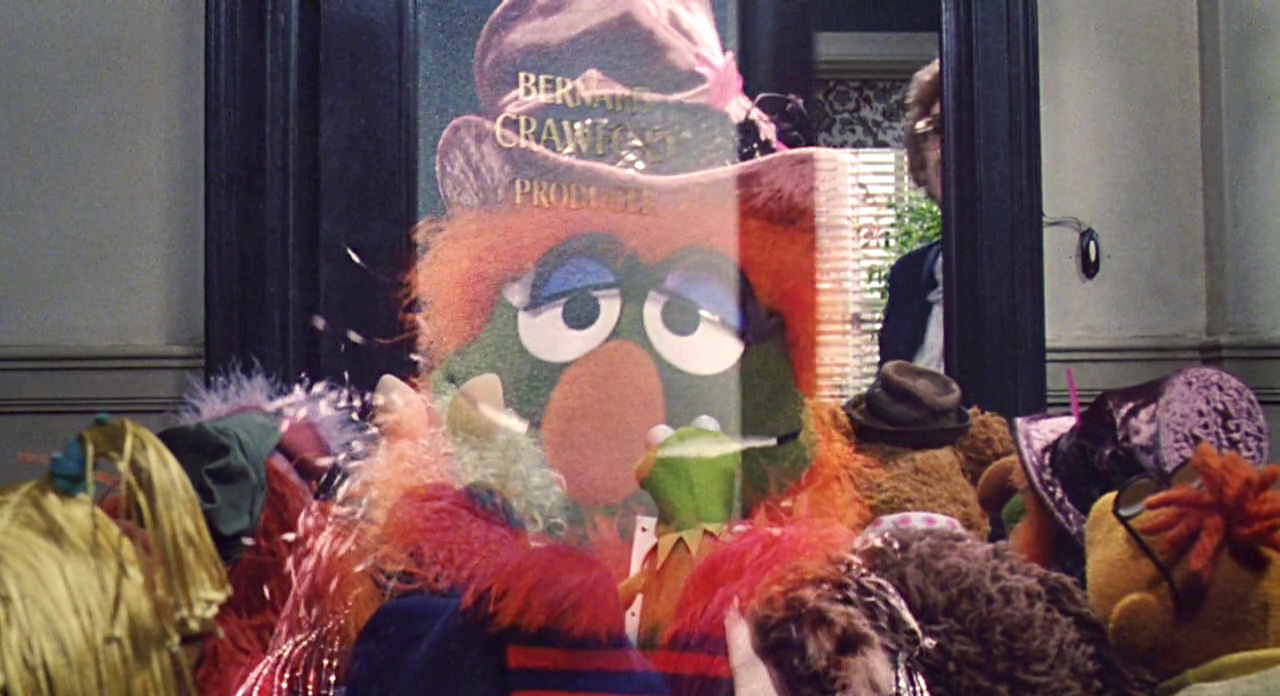 2 – You Can't Take No for an Answer – Dr. Teeth – The Muppets Take Manhattan
Do you remember when you went to see "The Muppets" in 2011 and whilst cleaning the theater Walter said "You're the Muppets, you do this to music" and Dr. Teeth replied "Well alriiiight" and then pressed a button on a cassette player instantly dashing the hopes of thousands of Muppet fans? Songs like this one is why we were disappointed. The Muppets did do these things to music, but it was generally the rocking sounds of Dr. Teeth & the Electric Mayhem that accompanied them – not some stock 30+ year old track. I think we can all agree that the last two movies, great as they were, were all the poorer for not having something new from the band on the soundtrack. From its opening guitar riff this song has 1980s movie power ballad written all over it. It's got a nice rock/gospel/blues feel and every element from the piano to the saxophone to the backing singers simply elevates it higher and higher. Jim gives an energetic vocal performance here that really hammers home the song's message. This song had number one written all over it until…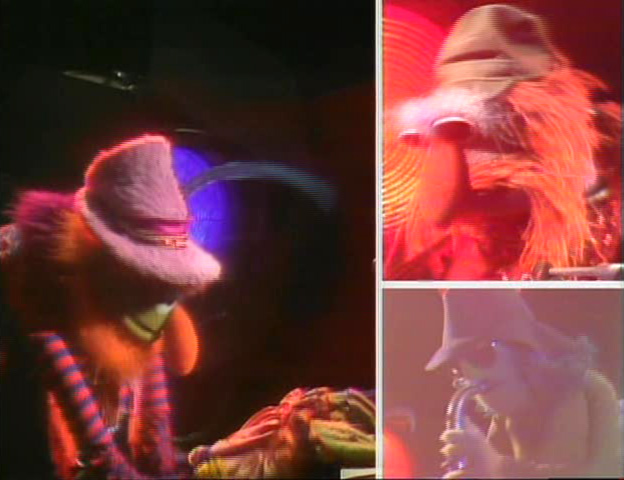 1 – Lazy Bones – Dr. Teeth & the Electric Mayhem – The Muppet Show
This song really couldn't be much more different from the last one. It's also been recorded by Louis Armstrong, but we'll let it off with a warning! As I've already mentioned, Dr. Teeth has a gruffness to his voice, but this song really brings out his more mellifluous tones. When he was bellowing "Tenderly" you never would have thought his was the sort of voice you might want to sing you to sleep and yet here we are. You could easily think that the change in style between the two songs was developed over the 5 years that the show was on air, but actually there just one episode separating them! This song along with countless others is the reason The Muppet Show means so much to me. I hang my head every time someone makes the assumption that the show was nothing, but mayhem and explosions (ok, technically this song is "Mayhem", but you get my point). Week after week The Muppet Show was filled with culture. I learnt a lot from the show as a youngster, absorbing all of the musical styles presented, and it's given me such an appreciation of the arts. This song is simply sublime. It's sung with a sense of class that's just pitch perfect.
And that I guess is the best way to describe Dr. Teeth – pitch perfect. Mind you he'd probably describe himself as "The majestic, magnificently melodious master of music that is, was and forever will be the one and only – Dr. Teeth!"
I'd like to thank Dr. Teeth for being the first ever subject of my character-based top 10 charts. It seems fitting that this keeper of the keys should be the one to open the door and lead the way. Next week we'll move on to someone else, but he'll always be my first!